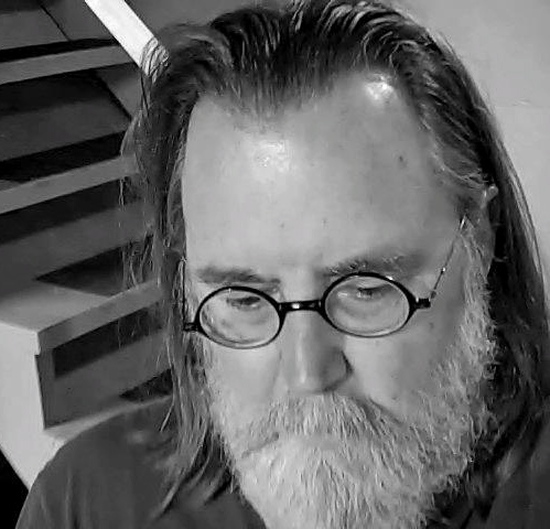 Born 1951, Grand Rapids, Mi.
Studied at University of California at Berkeley.
Exhibiting work nationally and internationally since 1979.

Recent museum and gallery shows include:
Middlebury College Museum of Art, Middlebury, VT.
St. Mary's College Museum of Art, Morago, CA.
Mandeville Gallery, Union College, Schenectady, NY.
Paris Gibson Square Museum of Art, Great Falls, MT.
Loveland Museum and Gallery, Loveland, CO.
Museum of the Southwest, Midland, TX.
Center Art Gallery, Calvin College, Grand Rapids, MI.
Muskegon Art Museum, Muskegon MI.
Hooks/Epstein Gallery, Houston TX.
Garde Rail Gallery, Seattle, WA.
Intuit, Chicago, IL.
Mars Gallery, Chicago, IL.
Gallery Gris Gris, Utrecht, Netherlands.
Tangent Gallery, Detroit, MI.
Terrace Gallery, London, England
UICA, Grand Rapids, MI.
Tvedten Gallery, Harbor Springs, MI.
Gridspace, Brooklyn, NY.


My work expands outward from a central point of minimalism, into a world of texture, color, and mark-making. The work communicates an artistic balance of receiving and giving, looking and responding, that is intended to draw viewers in and invite further contemplation. I seek to create a conversation between universal and personal visual language by incorporating elements of the everyday into my work. I start with a vague idea, and set sail. The end of the journey usually has nothing to do with the beginning, but it's been a long, strange trip.

The use of ubiquitous materials and discarded objects is important to my artistic process, which involves manipulating and presenting materials in new contexts. I am interested in investigating the ways in which aesthetic value and meaning are created and assigned, by both the artist and the viewer. These artifacts are representations of that exploration.


---